Testimonial for Wedding Emcee Service By Wayne Emcee Singapore
A few days ago, Wayne Emcee Singapore had received another testimonial from a satisfied client who had engaged us to be his wedding emcee.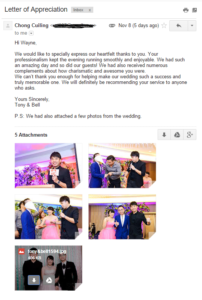 It was a small scale wedding where close friends and families were invited. It was a warm and pleasant evening for the hosts, as well as the guests. It feel great when we know that the couples actually enjoy our emcee for their wedding and how we had turn their special day into a memorable one.
Tony and Bell, may little Tony and little Bell come quickly!